In the old days, an ax shovel, and chain saw, or a strong truck bumper and chain were the best remedies for removing stumps. Today, I would suggest calling Stump Buster. We service the Milwaukee, WI area communities.
I'm Frank Bunker, owner and operator of Stump Buster, which was established in 1994.
Connor at 5 years.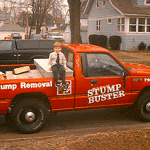 He is now 18 years old and assisting in Lawn Busters.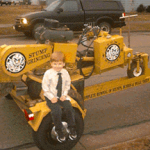 When you call me, the Stump Buster owner and operator, you have the assurance of dealing with someone you can trust. My reputation and long-term commitment to our community depends on it. So the next time you get an idea to remove some of the growing obstacles on your property, don't think twice, just pick up the phone. I'll give you a quote you can rely on, plus the confidence of getting exactly what you expect from an honest, reliable stump removal expert.
Call (414) 423-4184 for a FREE ESTIMATE from the Stump Buster!